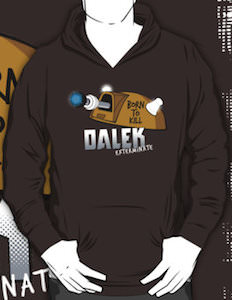 Are that Doctor Who fan that wants a Dalek hoodie?
If you are then you have to check out this hoodie.
On this hoodie you can see the top of the Dalek with on it the words "Born to Kill" and below that it says in big letters "DALEK Exterminate".
And all that makes this Doctor Who hoodie look really good.
This hoodie comes in two styles one with zipper and one without and both are made from 100% cotton and comes in some fun colors.
And if you would like this on a t-shirt instead then you can get that to.
Dalek fans should really have a closer look at this Doctor Who Dalek Born To Kill Hoodie.