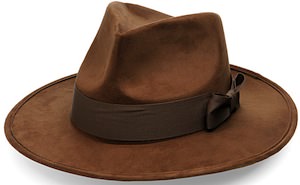 One thing we remember the 4th Doctor by is his long scarf but he also had an amazing hat.
Now you can wear the same hat as Tom Baker did when he was Doctor Who.
This hat is a prop replica of the exact hat the 4th Doctor wore and you can be the owner of this hat.
If you hat is less then 23 inch in round then this hat will fit you perfectly.
The Doctor Who hat is made from a soft suede like material and looks great. You can wear this hat everyday or just keep it for halloween or other dress up parties.
Come and see this Doctor Who 4th Doctor's Hat.