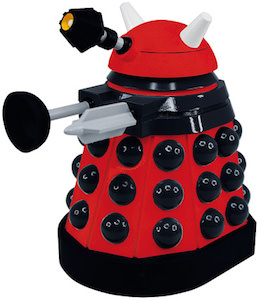 If you are looking for you own personal Dalek then this vinyl version could be perfect.
Doctor Who collectors of course would like a red Dalek in their collection and this 6.5 inch tall version is just perfect. The vinyl Dalek looks much cuter then the real things and you don't have to worry about exterminating things (I think).
And this Dalek comes in a window box so that you can keep him in it's secure box so that it keeps new and doesn't fight with other Doctor Who figurines you own.
Your desk or a shelve are all perfect places to put your Doctor Who Red Dalek Vinyl Figurine.