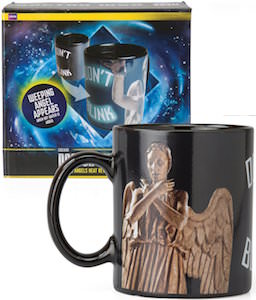 If you are looking for a Doctor Who mug that will scare some people then you have to check out this mug.
This mug is nice and black and just says "Don't Blink" on it. But then when you put some hot drinks in it then the mug changes and Weeping Angels appear on both sides of the mug and the "Don't Blink" gets a bit of a glow.
Just wait to see those faces the first time this mug changes into one with Weeping Angel on it. A true Doctor Who fan will love a mug like this.
Stop blinking and make some hot coffee to put in this Doctor Who Weeping Angel Heath Changing Mug.