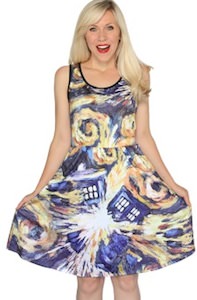 There are many Doctor Who dresses but non of them are so explosive as this one.
This Doctor Who dress is covered in the painting of Vincent van Gogh and yes of course that is the exploding Tardis painting.
So now you can wear the exploding Tardis around all day long as this dress is just that famous scene from Doctor Who.
This Doctor Who dress is strapless and fun. It's easy to combine with a little jacket or cardigan and that makes it a fun dress you can wear year round.
And this exploding Tardis dress comes in women's sizes Small – 3XL and the model on the pictures is wearing the Small size.
If you are looking for the perfect Doctor Who dress then at least come see this Doctor Who Exploding Tardis Dress.