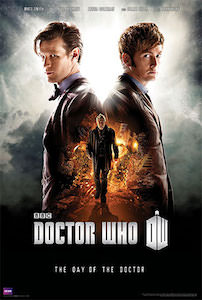 The Day Of The Doctor episode was great and was a good way to celebrate the 50e anniversary.
And now you can have a wall poster based on that Doctor Who episode.
This poster shows Doctor's 10 and 11 back to back and in the middle we find the War Doctor against a  burning backdrop.
This Doctor Who poster is 24 x 36 inch and makes the perfect wall decoration for a true fan of the Doctor.
No matter witch Doctor is you favorite the Day of the Doctor was one of those episode every Whovian has to see.
Lets get ready to decorate some walls with this special Doctor Who The Day Of The Doctor Poster.