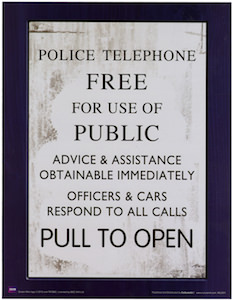 Always wondered what it says on the famous Tardis door sign?
OK this Doctor Who magnet will tell you.
POLICE TELEPHONE

FREE

FOR USE OF

PUBLIC

ADVICE & ASSISTANCE
OBTAINABLE IMMEDIATELY

OFFICERS & CARS
RESPOND TO ALL CALLS

PULL TO OPEN
There you have it the full text of the door sign of the Tardis. Make me wonder if it's free to use the Tardis to.
So this is a big 8.5 x 11 inch magnet of the sign on the Tardis complete with a Tardis blue border.
I can just imagine how amazing this magnet would look on my fridge.
And this Tardis magnet is an officially licensed Doctor Who product so you are sure it's the one the Doctor has on the Tardis.
Don't hesitate get your own Doctor Who Tardis Sign Magnet.