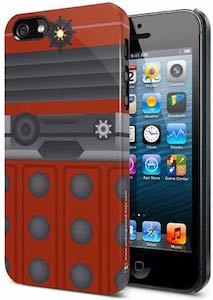 So how is you iPhone protected?
Your iPhone 5s or iPhone 5 can now be protected with the power of the Dalek.
This Doctor Who iPhone case looks like a red Dalek complete with all the details you expect.
And this Dalek iPhone case does not stop at the edge no the design keeps going to the sides of the phone to.
Of course like any good phone case all the buttons and ports will be available for you to use.
One thing to keep in mind….. Would the Dalek be able to use you phone to track down the Doctor or maybe even exterminate the whole population?
Now any fan of the enemies of Doctor Who can get their phone protected with this Doctor Who Red Dalek iPhone 5s Case.