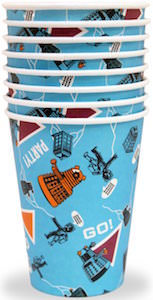 If you are gone have a Doctor Who party then of course you need special party wear.
And now there is this set of 8 paper cups that are all in the spirit of Doctor Who.
The paper cups are light blue and on that you can find the Tardis and Cybermen and Dalek and the words "Go Party!".
Special paper cups like these just make a Doctor Who birthday party even better and no worries the Dalek and Cybermen will behave because they like cake to.
Come and get that party started with these Doctor Who Paper Cups.