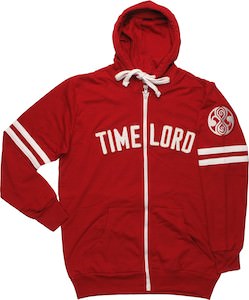 Fans of Doctor Who of course like hoodies to and this red hoodie is perfect as it does not have all the typical Doctor Who stuff on it but still clearly is a Doctor Who hoodie.
The hoodie is red with white details like stripes on the sleeves and zipper. And then on the front it says "Time Lord" and a Gallifrey symbol on the one sleeve.
And the decorations on this hoodie are not printed on it they are all sown on giving it an even better look.
This red Doctor Who hoodie comes in sizes Small – 2XL and is perfect for year round use.
Get your own Doctor Who Red Time Lord Hoodie.