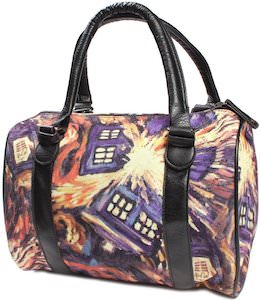 Girls always need room for their stuff when on the go.
And handbags are just perfect for that. And now there is this canvas bag with black straps that has the exploding Tardis painting from Vincent van Gogh on it. And even though the Tardis is exploding this could still mean that this bag is bigger on the inside.
The Doctor Who handbag is 8 x 4 1/2 x 12 inch and that makes it the perfect size to become your go to handbag.
And just imagine how much attention you will get from your friends that also like the Doctor?
Time to clean out that old bag and replace it with this Doctor Who Exploding Tardis Handbag.