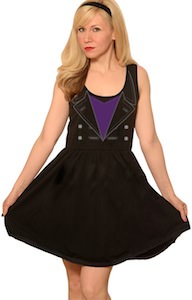 The 9th Doctor is still one of my favorite and now there is this costume dress that makes women look just like this Doctor Who.
This dress is mainly black and the top has the looks of the jacket the Doctor wore and his purple shirt under it.
Just a super fun costume dress that is great for a Doctor Who Halloween costume or just for everyday as the design is just fun.
The 9th Doctor dress is sleeveless and that makes it great for summer or easy to combine with something else when it's cold.
You can get this Doctor Who dress in sizes XSmall – 3XL and it's made from 95% cotton and 5% spandex.
Get ready to become the Doctor by simply wearing this Doctor Who 9th Doctor Costume Dress.