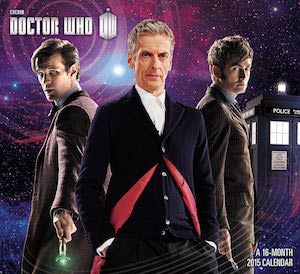 2015 will be the year of the 12th Doctor and of course that does not mean that we have to forget all about the past.
And to make it easier to remember there now is the 2015 wall calendar that also offers and overview calendar for September – December 2014.
Of course this Doctor Who wall calendar has amazing pictures and some of them have Doctors on them like the 12th, 11th and 10th but there are also enemies like the Dalek and there is even a companion to be found.
Not much more you have to know about the 2015 Doctor Who calendar so why aren't you just make some room on a wall and order your Doctor Who 2015 Wall Calendar.