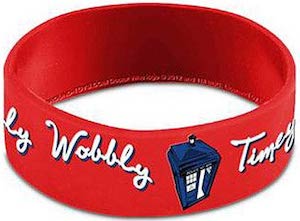 So how does that time and space things work again?
If I remember right the 10th Doctor explained it as being like wibbly wobbly timey wimey thing.
Now you can have a Doctor Who wristband with exactly that on it. This red Doctor Who bracelet says "Wibbly Wobbly Timey Wimey" and even has the picture of the Tardis on it with one door open.
Now you can just wear a red rubber wristband and the whole world around you knows about you love for Doctor Who.
So if you need to explain time and space then what better way to do it then with this Doctor Who Wibbly Wobbly Timey Wimey Wristband.