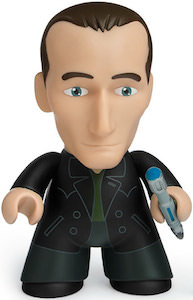 Now you can have your own little Doctor figure.
This is a 6.5″ tall figure of the 9th Doctor as played by Christopher Eccleston.
As you can see this Doctor Who figure has amazing details and looks so much like the Doctor that you are wondering if this is the real Doctor in some kind of trouble.
This is a vinyl figure that even bring it's own Sonic Screwdriver and that of course make it fun to play with.
Personally I would love to have one these Doctor Who figures just to display as they look cute and realistic.
So why don't you have a closer look at this Doctor Who 9th Doctor Vinyl Figure.