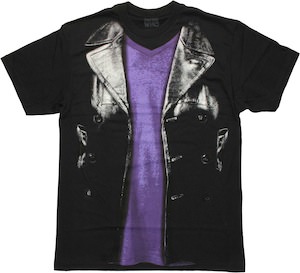 Do you want to dress like the 9th Doctor?
This costume t-shirt will make you look just like him. The same jacket and purple shirt under it but then just printed on a t-shirt.
This Doctor Who t-shirt  is great for everyday or for Halloween or any other costume occasion.
Now you can look just like Christopher Eccleston while he was playing Doctor Who.
A Doctor Who t-shirt like this of course is made from 100% cotton and will be your next favorite Doctor Who shirt.
Time to become Doctor Who by wearing this Doctor Who 9th Doctor Costume T-Shirt.