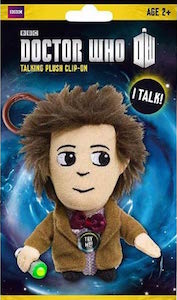 Now you can have a little Doctor Who with you where ever you go.
This plush version of the 11th Doctor is the perfect size to hang on your backpack or live with you keys. And yes this is a Doctor Who key chain.
And being plush and cuddly is not the only amazing thing about this Doctor Who key chain. This plush key chain talks and there is even a Sonic Screwdriver sound because of course the Doctor has a plush Sonic Screwdriver with him to.
No need to wonder if something went terribly wrong with the Doctor, this is just a toy and you can get one.
Add some fun to your life with this Doctor Who 11th Doctor Talking Plush Key Chain.