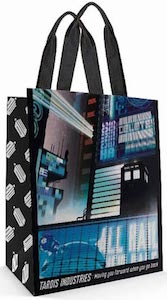 Why get a boring tote bag from your grocery store when you can have one made special for Doctor Who fans.
This bag has black sides that are covered in the Doctor Who logo and the front shows an image of a city scape all high tech and yes there is the Tardis in their to and even a Dalek. And all the way down it even says "Tardis Industries".
Stop using plastic or paper and go with a reusable bag like this Doctor Who one.
Go get a bag and maybe fill it up with custard and fish sticks just in case a curtain Doctor stops by.
Here is your opportunity to order a Doctor Who Tardis Industries Tote Bag.