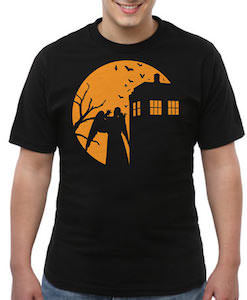 This black Doctor Who t-shirt is perfect for Halloween as it is scary.
On this black t-shirt you can see a orange circle that looks like it lights the scene so maybe it is the moon. And in the scene you can see a tree and birds but more importantly a Weeping Angel in front of the Tardis from Doctor Who.
Maybe the angel is knocking on the door for some candy but I am pretty sure this Weeping Angel has different plans.
The t-shirt just is black and orange making it really neat and special and that is why you should take a closer look at this Doctor Who Weeping Angel Trick Or Treat T-Shirt.