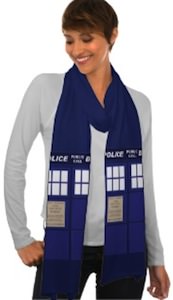 A Tardis scarf is what every Doctor Who fan needs in winter.
And now you can have this amazing blue scarf that has the doors to the Tardis printed on it.
This Doctor Who scarf is made by American Apparel and is super soft and made in the USA.
With a length of  93 inch this scarf is great to wrap around and enjoy the warmth it will give you. This Doctor Who Tardis scarf is made from 100% Jersey cotton to make it they way a scarf should.
Maybe the 4th Doctor would have gone for this scarf if it was an option in those days as it just looks amazing and it has the Tardis on it.
Surprise a friend or your self with this Doctor Who Tardis Scarf.