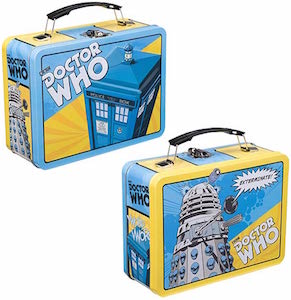 A metal lunch box is great for collecting specially if it is a Doctor Who lunch box.
This lunch box has a comic style feel with the Tardis on one side and a Dalek on the other and yes it says Doctor Who on there to and even on the sides you will find the Tardis and Dalek. This lunch box is not just Tardis blue because that has been done this one is a lighter blue with yellow giving it a fun look.
And this lunch box is great for lunch, it's 9 x 7 1/2 x 3 1/2 inch dimension leave plenty of room for food. But besides lunch this is also just a perfect storage tin for small things or maybe a part of your Doctor Who collection.
Time for lunch or time or organize for either one you could use this Doctor Who Tardis And Dalek Comic Style Lunch Box.