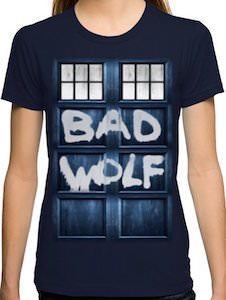 Most of the true fans that look around here know all about Bad Wolf and this women's t-shirt brings that right back.
This women's shirt comes in navy blue, black and brown and on it you can see some side panels of the Tardis and on that someone spray painted the words "Bad Wolf". It does make you wonder if it is a message of some sort or just a kid that is vandalizing the Tardis.
You can get this women's Bad Wolf t-shirt in sizes Small – XL and it's made from 100% jersey cotton.
If you want a blue police box with graffiti on it then you have to check out this Doctor Who Tardis Spray painted Bad Wolf T-Shirt.