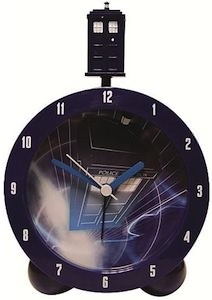 A true Doctor Who fan would love to be woken by the sound of the Tardis and now you can because this Tardis alarm clock will make the real sound while it wakes you.
The Doctor Who alarm clock almost looks like a old fashion alarm clock but this one has a little Tardis on top. The clock is mainly blue with clear numbers round the edges and in the middle on the clock face we can see the Tardis flying to the next adventure of the Doctor.
The Tardis clock runs on 3 AAA batteries and will even make the Tardis sound by just pressing the Tardis on top.
Do you need a new alarm clock? Come check out this Doctor Who Tardis Alarm Clock.