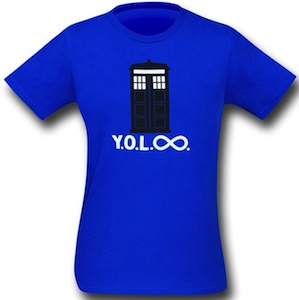 We all have the YOLO problem as we humans only live once.
But if you are the Doctor then you have a different "problem" and this t-shirt tell that story.
This blue t-shirt shows a picture of the Tardis and below that it says "Y.O.L.Infinitely" and it shows a little never ending loop to show that.
Yes as Doctor Who can't really pass away he need a shirt like this to tell the world about it.
OK he gets regenerated once in a while but that doesn't count does it.
This adult men's t-shirt comes in sizes Small – 3Xl and will look stunning on men and of course also women.
Show the Infinitely of the Doctor by wearing this Doctor Who YOLO Infinitely T-Shirt.