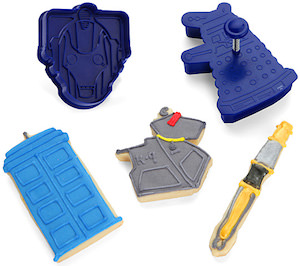 Beside fish fingers and custard and maybe a banana the Doctor surely loves cookies.
And now you and the Doctor can make some fun Doctor Who cookies.
This is a set of 5 different Doctor Who cookie cutters.
You can make the following shaped cookies:
Tardis
Dalek
Cybermen
K-9
Sonic Screwdriver (11th Doctor's version)
Just imagine your next Doctor Who party can be amazing when you bake some fresh cookies shaped with this Doctor Who cookie cutter set.
I would love a bunch of cookies and like the K-9 robot dog best. And these cookie cutter also imprint a design in the cookies to make the look more real.
Come take a closer look at this Doctor Who 5 Piece Cookie Cutter Set.