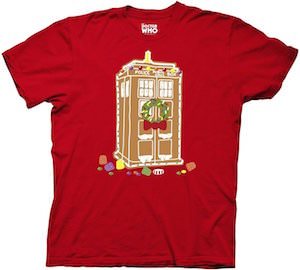 Not an sweater kind of person?
No worries there now is a perfect Christmas t-shirt for you.
This red t-shirt shows the Tardis but not the normal blue box, this time it's made from gingerbread.
What is more festive then a gingerbread house and as the Doctor seem to live in the Tardis this is kind of his gingerbread house.
This gingerbread Tardis t-shirt is also available in green and in a girly fit. But this one comes in sizes Small – XXL and will look great on men and women.
Christmas will be fun when wearing this Doctor Who Red Gingerbread Tardis Christmas T-Shirt.