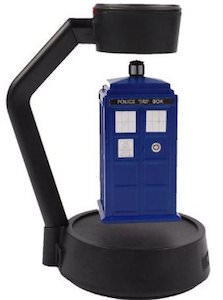 Now you can have you own flying Tardis that never leaves your desk.
This Doctor Who product is a black holder with in the middle a levitating Tardis.
Yes the Tardis will fly and you can even make it spin if you push it.
It runs on 6 AA batteries and can fly all day long just to amuse you.
The Tardis of course is 3D and is about 3 inch tall and will does it's levitation trick  by using magnets.
Just imagine having this on your desk of bookshelf, it will be hard not to play with it and that is the point of this fun item.
Come take a closer look at this Doctor Who Levitating Tardis Toy.