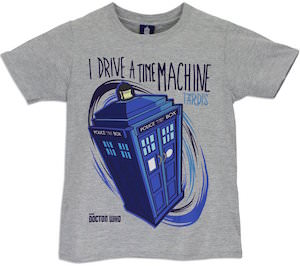 This grey kids t-shirt is for all the kids that like Doctor Who.
On the t-shirt you can of course find a big picture of the Tardis and it seems like it is moving and above that it says "I drive a time machine Tardis" and below the picture it also has the Doctor Who logo.
This officially licensed t-shirt comes in kids sizes 8 – 14 and would look great on any true Whovian.
Just imagine the joy in your kids eyes when you surprise them with this Doctor Who t-shirt.
Don't wait to long come check out this Doctor Who I Drive A Time Machine Tardis Kids T-Shirt.