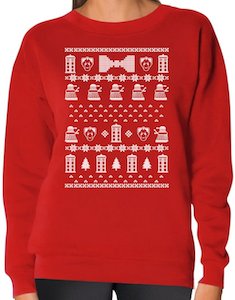 Ugly Christmas sweater are easy to find but can you find a Doctor Who one?
We found you this women's sweater and you know it's not even ugly it just great.
Black, grey, blue, pink and red are all the colors that this Doctor Who Christmas sweater is available.
On this Christmas sweater you can find a bow tie, Cybermen, Dalek, the Tardis and yes even some Christmas trees. It's a fun sweater that offers everything a Doctor Who fan wants in a ugly Christmas sweater.
And this sweatshirt comes in a wide range of women's sizes from Small – 2XL so that you can get the right size for your Christmas party.
Get ready to enjoy your own Doctor Who Women's Christmas Sweater.