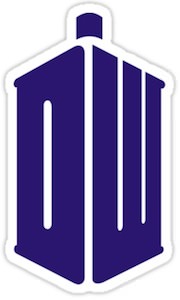 To me the current Doctor Who logo looks like the Tardis but it also has a big letter D and W from Doctor Who on it.
And now you can get this Doctor Who logo as a sticker.
Not just any sticker no a die cut sticker that is shaped like this Tardis DW logo.
This Doctor Who sticker looks super on almost anything. How about having one on your laptop, fridge, car, front door, iPad or maybe even your phone.
This vinyl Tardis sticker is about 4″ tall and can be removed without leaving residue and the Doctor Who sticker is waterproof and will be looking great outdoors for about 18 months.
Doctor Who fan now you can make anything look like Doctor Who merchandise.
Come and order one or more of these fun Doctor Who Logo Sticker.
You may also like: