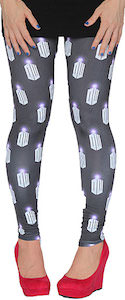 Are you still looking for the perfect pair of Doctor Who leggings?
How about these leggings? They are covered in the Doctor Who logo that looks like the Tardis and the top seem to give light and that makes it really cool.
These Doctor Who leggings come in women's sizes Small – 3XL. These leggings are ankle length fitting grey leggings.
Just imagine Clara or Amy in these leggings that would have been so fun.
But luckily for you now you can have the coolest Doctor Who leggings out there.
So lets not wait any longer come and get your own Doctor Who Logo Leggings.