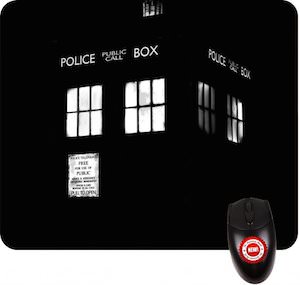 Does you computer mouse just live on your desk all alone on a hard surface?
Why not give it a place to call home? A mousepad would be perfect for your mouse and this one has the Tardis from Doctor Who on it.
This mousepad is black and the only thing you see is the lights from the Tardis. You can see the windows, door sign, banner and the light on top.
And all that darkness makes this a really cool looking Doctor Who mousepad.
The Tardis mousepad is 7.5 x 9 inch and has a fabric top and a non slip back.
So now your mouse can have a place to call home and you have a cool mousepad to show to your friends.
Don't wait come get your own Doctor Who Tardis At Night Mousepad.