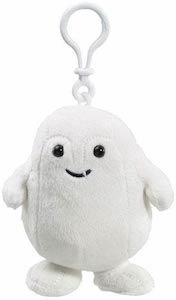 There we have a little baby Adipose. This one still has to fatten up a bit but then it can be a big Adipose.
This 4″ tall plush Adipose is has a clip on it so that you can hang it on all kind of things from your keys (as a key chain) or on your jacket and maybe a backpack. Anything with a loop is a good home for this Adipose plush.
And the fun part of this Adipose is that it has sound effect straight out of the Doctor Who TV series so you know it's the real deal.
Give this fat eater a new home! So come and adopt your own Doctor Who Adipose 4″ Plush Key Chain.