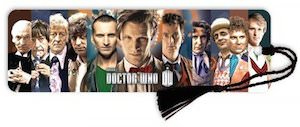 We all read books it could be for fun, school or work but we have to read somethings and how do we keep track at where we are?
A bookmark is the answer and this Doctor Who bookmark is the one you should have a closer look at.
This bookmark shows the Doctor 11 times. Yes on this bookmark you can see Doctor Who from number 1 to number 11 all in photo's next to each other.
So the bookmark looks stunning and to make you life even easier they gave this bookmark a tassel so that you can keep hanging that out of you book to easily find the page you are at.
School work, office work or just a fun book they all deserve this Doctor Who 11 Doctors Bookmark.