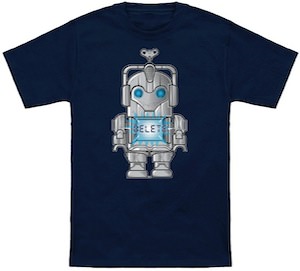 Cybermen evolve and this Doctor Who t-shirt shows the newest evolution of this robot army.
On this t-shirt you can see a smaller version of a Cyberman and this one has a green energy source. You have to wind it up to make it go deleted things.
And like the Teletubbies this Cyberman has a TV on it's belly and this one has the message deleted on it.
This Doctor Who t-shirt comes in a men and women's cut and it also comes in a wide selection of size in the colors navy blue or black.
And this Cybermen is made from 100% cotton so that it doesn't have to feel like a steel robot suit.
Lets show the world a greener version of the Cybermen by wearing this Doctor Who Wind Up Cyberman T-Shirt.