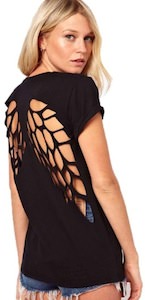 We all know not to blink because of the Weeping Angels but now you can be one of them and people will not blink when they see you in this amazing Doctor Who t-shirt .
This t-shirt comes in white or black and on the front just looks like a normal t-shirt but on the back there you can see big wings and they are not printed on this t-shirt, they are cutout.
Now you can be an Weeping Angel just by wearing this t-shirt. And you know you can even be one without this t-shirt.
Just do some sunbathing while wearing this t-shirt and the wings will transfer to your back and you will be a angel.
This Weeping Angel t-shirt comes in 3 women's sizes Medium (US8), Large (US10) and Extra Large (US12).
Make the world stop blinking by wearing this Doctor Who Weeping Angels Cutout Wings Women's T-Shirt.