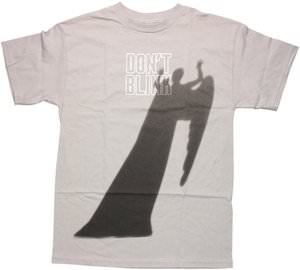 Doctor Who fans do not blink while reading this article!
This is a light grey t-shirt with on it a huge shadow of a Weeping Angel and you know what to do when they are near.
Yes "Don't Blink" and that is why that is also printed on this Doctor Who t-shirt.
This 100% cotton Weeping Angel t-shirt comes in a wide range of sizes from Small – 3XL and it has a standard fit making it perfect for men and women.
As people seem to forget things quickly this t-shirt is the perfect way to show them a Weeping Angel again and warn them.
Come and get your own Doctor Who Weeping Angel Shadow T-Shirt.