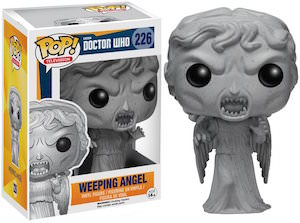 Does your Doctor Who collection have a Weeping Angel in it?
If not then this Pop! Vinyl figurine is something you should take a look at.
This figurine is 3 3/4 inch tall and is number 226 in the famous Pop! series from Funko.
And as it is a Weeping Angel you of course want to be careful and don't blink but it also seem to help if you keep this figurine in the windowed box so that you can see it but it can't move out.
Doctor Who collectors I am sure it would be amazing to have a whole series of Doctor Who related Pop! Television figurines.
Get your collection started with this Doctor Who Weeping Angel Pop! Vinyl Figurine.