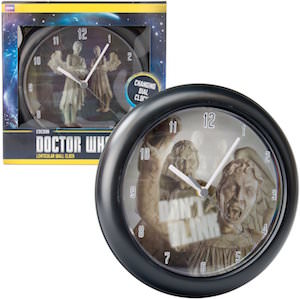 Now you can have a wall clock you can look at but never blink at.
This is a Weeping Angel wall clock perfect for a home of Doctor Who fans.
And this wall clock is special as the picture on the clock face changes if you look at it from different angles. One image shows neat angels standing around but then when you don't pay attention they become into attack mode.
The Doctor Who wall clock has an 8 inch diameter and runs on 1 AA battery (not included).
In my opinion this wall clock is just the perfect way of telling time and of course it will also train you in not blinking.
Come before it's to late and order your Doctor Who Weeping Angel Moving Wall Clock.