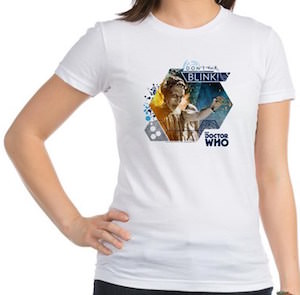 All Doctor Who fans know about how scary those Weeping Angel are and maybe wearing this t-shirt will tell the world about it to.
This t-shirt witch comes in multiple colors and in a men and women's cut shows a Weeping Angel ready to attack and above it the words "Don't Blink" and in the lower corner the Doctor Who logo.
And all that is just designed in a fun way on this t-shirt.
Of course you are a Doctor Who fan that needs a new t-shirt and this Weeping Angel shirt can be the one.
I would not wait any longer and just order this Doctor Who Weeping Angel Don't Blink T-Shirt.