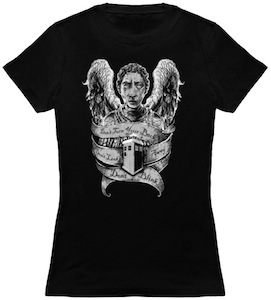 This Doctor Who t-shirt looks scary and amazing.
The t-shirt is black and comes in a men, women's and even kids version in all kind of sizes.
And on the shirt you can see a Weeping Angel surrounded by a sash that is hold in place by the Tardis.
On that sash you can find the rules to keep in mind when Weeping Angels are around.
The text says:
Don't turn your back
Don't look away
Don't blink
And the look of the graphics on this Doctor Who t-shirt make it look like there is a real stone Angel on your shirt.
Lets warn the planet by wearing this Doctor Who Weeping Angel Don't Blink T-Shirt.