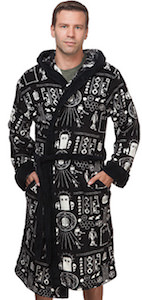 This black bath robe is the robe any Doctor Who fan wants.
Men or women this robe tells a story that only a Doctor Who fan would understand.
On the black fabric you can find white images of many things related to the Doctor.
Yes the Tardis, Dalek, Cyberman, Sonic Screwdriver and even K-9 are all there making this the robe you want to wear when leaving the shower and the bath robe you want to wear when you lounge around the house on a Sunday morning.
And this Doctor Who bath robe even has a hood so that you can hide you head and keep it warm at the same time.
Now is the perfect time to order your The Doctor Who Bath Robe That Says It All.