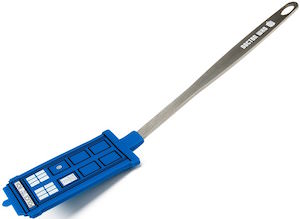 A spatula is one of this kitchen items you just need and now there is a special Tardis version of it.
Now flipping pancakes or fish fingers before they end up in the custard is so much easier with this Doctor Who spatula.
The metal handle has the Doctor Who logo and and the words "Doctor Who" spelled on it and then the slipping part that is shaped and decorated like the Tardis. So yes it is blue and has the windows and signs right on it. And the Tardis is made from a durable silicone to last you a long time.
Now I am getting hungry for pancakes so lets flip some with this Doctor Who Tardis Spatula.