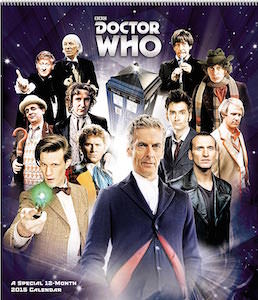 Wall calendars are great even the Doctor Who one but a poster calendar is better.
And this is a special edition 2015 poster calendar from Doctor Who.
You will have a new doctor every month of the year and that means you get all the Doctors and yes even the War Doctor is there one month that he shares.
Besides amazing poster of the Doctor's you will find enemies, companions and even the Tardis.
Each month will be amazing as there will be a new 13.5 x 15.5 inch poster of the next Doctor Who and yes the is a calendar so on the poster you will see the calendar of that month but there is no room for writing just for keeping track of the day.
This Doctor Who calendar deserves a special spot on the wall. So clear up some space and order your copy of the Doctor Who Special Edition 2015 Poster Calendar.