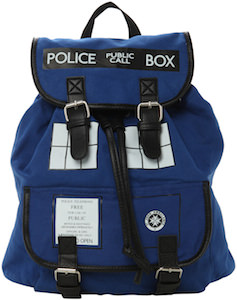 Now you can have the coolest backpack of them all!
This Doctor Who Tardis slough backpack will be a hit by all the Doctor Who fans out there and you can be one of them.
This Tardis backpack just looks stunning. It is Tardis blue and has the famous top sign saying "Police Public Call Box" on the top flap.
And then on the top front you can see the windows of the Tardis and on the lower pocket there is the famous door sign and the St. Johns Ambulance sign.
And all these pockets have fun black straps. And even on t he inside you can find a pocket but this one has a zipper not a fun strap.
This Tardis backpack is great for school, work and play it just looks stunning and may even be bigger on the inside.
Lets not wait any longer just come and have a much better look at this Doctor Who Tardis Backpack.