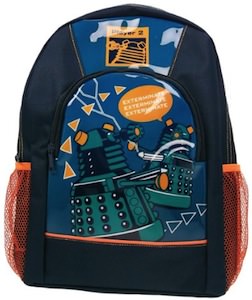 Little Doctor Who fans will love this Dalek backpack.
This backpack has two pockets both have zippers to close it and both have a Dalek on them. The front pocket of this Doctor Who backpack has the most space so it shows two Daleks ready to battle one keeps saying "Exterminate" like they do in real life.
Besides the closed pockets this Doctor Who Dalek backpack also has two mesh side pockets that are great for water bottles or juice packs.
And if you kid is gone carry this Doctor Who backpack a lot then don't worry the padded straps make it comfortable to carry.
Time to schop for school and lets start with this Doctor Who Dalek Exterminate Backpack.