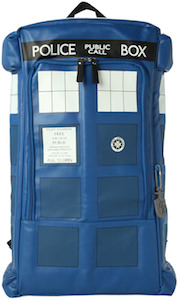 A true Doctor Who fan of course want to bring a Tardis where ever they go.
Now you can have a Tardis shaped backpack that may be even bigger on the inside.
This backpack is made from 100% PU and that gives it a more realistic Tardis look and maybe if you wait long enough a smaller Doctor would go inside.
This Doctor Who backpack has one big main compartment that opens through the doors of the Tardis. And on the side you can even see a little classic Tardis key hanging even thought that doesn't seem to be the key of this Tardis.
The Tardis backpack looks just like the one the 12th Doctor uses and the design goes on to the side.
At a size of 10 x 4 1/2 x 20 inch this backpack is just the perfect sizes for school, work or just fun.
Come now and have a better look at this Doctor Who Tardis Figural Backpack.