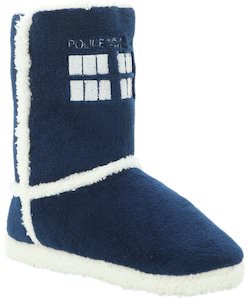 Inside or outside your feet deserve some cool footwear and maybe some Tardis boots would be perfect.
These boots are fluffy on the inside and the outside is made from microsuede with a textured sole so that you can wear them indoors or outdoors.
The slipper boots of course are really comfortable and come in a wide range of sizes.
And these Doctor Who boots are blue with some white details and of course the windows and "Police Public Call Box" sign on the front and the Doctor Who logo on the back.
This officially licensed Doctor Who footwear is just that piece missing in your shoe collection.
So don't wait just come check out these Doctor Who Tardis Slipper Boots.