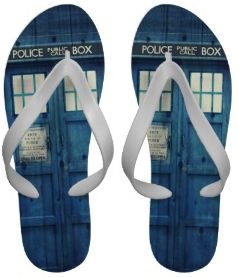 Plain flip flops are so boring so why not make them perfect for a Doctor Who fan.
These flip flops have a picture of the Tardis on the footbed making them immediately so much cooler.
And you can choose the color of the straps of these Doctor Who flip flops to. You can go for white as you see above or for black.
The Tardis loves to be part of everybody's shoe collection and that is why these Tardis flip flops come in a men and women's version in a wide range of sizes.
Are you that Doctor Who fan in need of some flip flops?
If so then come and check out these Doctor Who Tardis Flip Flops.