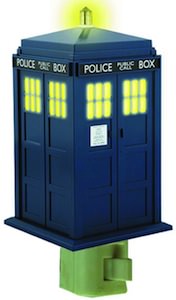 No longer do you have to be afraid of the dark because this Tardis night light will keep an eye on the monsters and other creatures under your bed and when it get to dangerous it will call in help from the Doctor.
A Doctor Who night light is what we all want and now you can have one that looks like a little Tardis.
The 7 watt bulb will bring just enough light to your home and it will come through the windows of the Tardis so that it looks like there is a tiny Doctor inside.
Get ready for the dark night with this Doctor Who Tardis Night Light.