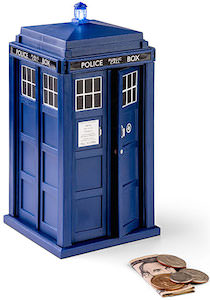 There we have the perfect money bank for Doctor Who fans.
It's a Tardis money bank, just open the doors and there you can put your money. And when you open the doors the typical Tardis sounds will pull you in and even on the top a little light will be flashing. When you open the doors of the Tardis you can see the whole insides and a slot for your money.
Now you can save your money in the Tardis witch of course is bigger on the inside so that it can store almost all the money in the world.
The Tardis money bank is 8 inch tall and makes a great addition to you Doctor Who collection.
Come have a closer look (there is even a video) at this Doctor Who Tardis Money Bank With Light And Sound.